Monday-Friday 8:00am - 4:30pm CLOSED Saturday & Sunday
7254 US Highway 2 & 41 Gladstone, MI
Social Profile
Testimonials
What Our Client Say
About Jeff's Glass & Windows
"I own a small business, and need odd shaped glass cut. Every time I call, they are extremely friendly and helpful. Within days, my pieces are ready. Great business to work with."
Tammy
"They did an excellent job installing our glass shower door with a knee wall! The tech was very thorough with measurements and the door fits beautifully! Couldn't be more happy!"
Bethany Leiter
"This place rocks! Jeff and his wife are top notch! They couldn't get our glass on time and so they filled our windows with temp glass! Made our day!! I recommend them to anyone ! Also good pricing and quality work!"
Marvin Cherette Jr
May 24, 2018
"Thank you, Jeff, for a job well done!"
Sister Mary Ann, Sister's of St. Paul De Chartres
"Jeff's Glass, Thank you for all you do for our Wheelin' Sportsmen Program!"
Ken Buchholt
"Jeff & Brian, Thank you! You are the best company we have ever dealt with as we have made repairs to our new home."
Charleen
"Jeff, Tina, & Crew, Just want to say thank you for my wonderful windows. It is a real pleasure to look out of them and see the clear blue sky. Everyone there was helpful and so very nice when I came in. Thanks again."
Bonnie McDonough
" It was a pleasure doing business with Jeff & Tina at Jeff's Glass. They were friendly and offered professional insight to OUR requests. We are pleased with the outcome of oir new shower area. The installation of the glass added much openness, crispness, and brightness to the bathroom and makes taking a shower that much more fun!"
Diane Bennett
" All the work that we've had done at Jeff's Glass & Windows are perfect. They do an outstanding job!!"
Pam Tallman
"Just had my shower door installed… and it's awesome. Super excited to learn it's some kind of special glass called "clear shield" resists staining and discoloration from hard water and does not support growth of bacteria. And they left me a squeegee, cleaner, and a cloth. The employees were very friendly and professional."
Melissa Bonifas-Ness
"Jeff, just wanted to thank you again for the windows! What a winter to have them - I come down Ludington street seeing all the "Frosted" windows and mine have been clear - not to mention the added warmth to the building and savings on the heat bill - Thanks again!!!"
Heidi Gartland
"When our accounting firm, Delta Business Solutions in Escanaba, needed a glass top for an old farmhouse door that we planned to use as a work table, we went to Jeff's Glass for advice. We needed a glass top with cutouts that allowed us to showcase the old farmhouse door knob. We also needed advice on glass thickness and other concerns. As you can see, Jeff's Glass did a wonderful job and even delivered the finished product to our office in the Penstar Building. Thanks Jeff's."
Ronald Miaso
"I just wanted to thank Tina for her help with the mirror and show you the piece it went into. It turned out really nice. Spent hours getting the hardened caulking from the channel on the reverse side. Thanks again!"
Linda Gafner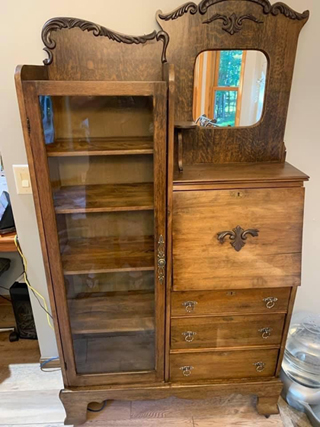 "Jeff's Glass & Windows really coming through on a quality tempered sheet for this beautiful Hearts and Spades we have in for a shop job. Thanks for the quick turnaround considering this pandemic – spot on measurements and smooth edges, friendly service"
UP Pinball Collective
" SIMPLY NICE! The Pleasant Moose Lodge has new windows! Great job by Jeff's!"
Pleasant Moose Lodge- Newberry, MI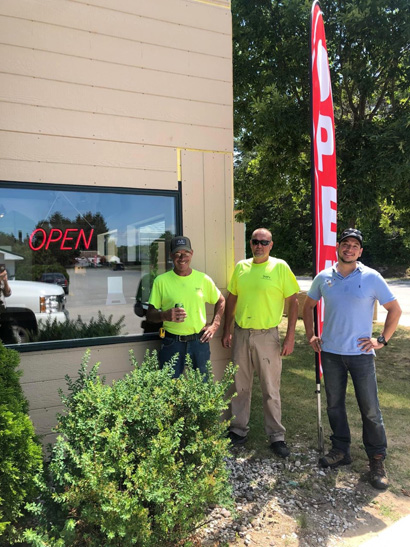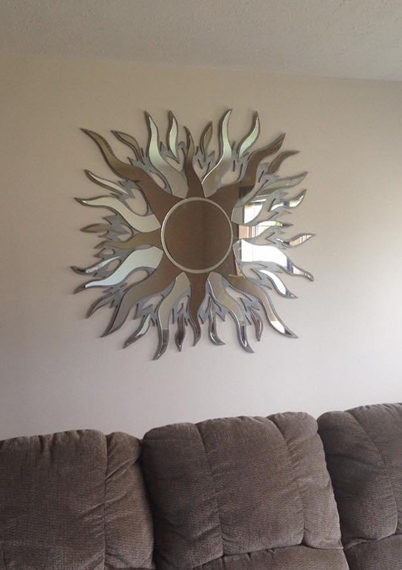 "My parents brought their mirror home from Arizona to put in their house here, and two pieces broke. Jeff's Glass & Windows did a great job fixing it!"
Marnie Williamson
"THANK YOU !!!! WE AT YOOPER DESIGNZ ARE SO GRATEFUL!"
Marvin Cherette Jr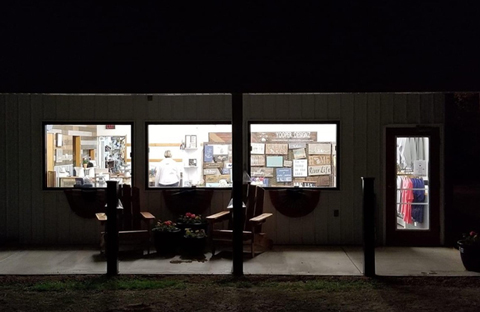 Jeff's Glass & Windows is a full service glass shop and glazing contractor. We provide residential and commercial services as well as products to a wide range of customers all over the Upper Peninsula. This includes walk-in services at our shop located on the Bay between Escanaba and Gladstone.
Jeff's Glass & Windows (formerly Ness Glass) was founded in 1950 in Escanaba, Michigan by Don and Elaine Ness and has served the Upper Peninsula since. They quickly earned the reputation of a quality glass shop. In 2010, Jeff & Tina Heiden purchased the business that Jeff has worked at for the past 28 years. With a professional staff, they use their combined experience and knowledge to provide their customers with quality service and products. Jeff's Glass & Windows will exceed your expectations.